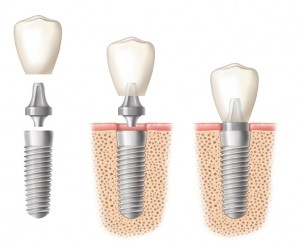 A dental implant is an artificial tooth, supported over a metal post that is inserted into the bone beneath your gums. The actual process is not as uncomfortable as you might think. In fact, we now regard implants to be the preferred method of tooth replacement.
Thanks to Dr. Kathleen Young and her team at Young Family and Cosmetic Dentistry, you can now have a clear explanation of the entire process from start to finish.
How Dental Implants Work
A dental implant is a small post with fine threads that fuse to newly developed bone within your jaw. Once anchored in place, it can support the forces of natural chewing. You would likely be surprised by how fast and simple the process is. Most patients report feeling no pain during the surgery, and very little discomfort during recovery.
Before Implant Surgery
Planning to place an implant is a very careful process that eliminates any guesswork. We use technology such as:
X-ray imaging
CT scans
Digital guides
Surgical mapping
… to plan out the ideal position for each implant. This preparation allows the surgery to go as smoothly as possible. It also determines whether you are a candidate for implant therapy to begin with.
During Implant Placement
The majority of patients having implant surgery find that they are comfortable with local anesthesia. If you would like more help feeling relaxed, nitrous oxide (laughing gas) is readily available at our Centennial dental office.
A small incision is made in the gums at the implant site. Tiny flaps of gum tissue are sectioned out to expose the bone. You may feel a little vibration as the implant is placed into the open socket, but nothing uncomfortable. Once the sterile implant is placed, the gums are sutured closed over it.
The Recovery and Restoration Stages
Dr. Young will discuss any medications or instructions for after-care that pertain to your needs. Discomfort is usually minimal. You will probably be able to go back to work the next day!
Next comes a few months of healing. This stage is critical to ensuring that the new implant has securely fused to the new bone in your jaw, a process known as osseointegration. In most cases, this stage lasts between 4 to 6 months.
Once osseointegration occurs, we prepare to place the permanent restoration. This minor surgery uncovers the top of the implant, so that an abutment can be fixed in place. The abutment will support your fixed prosthesis, such as a crown, bridge, or even a denture. Each one will look and function as if it were a natural tooth. No one will know but you!
Placing Dental Implants in Centennial, CO
Curious to find out whether a dental implant is right for you? Centennial residents are encouraged to schedule a consultation with Dr. Young to learn more about the benefits of implant therapy. Call today to book your visit with us!