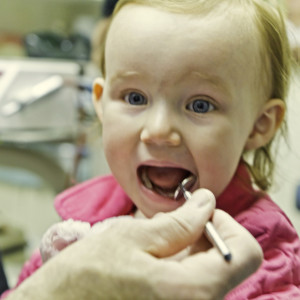 One of the most common misconceptions about baby teeth is that if the tooth has a cavity, it's ok to leave it alone. After all, that tooth is going to fall out anyway – right?
Yes and No.
What most people don't realize, is that baby teeth decay very, very quickly. A cavity can easily spread from one tooth to the next, or even through the baby tooth to the underlying adult tooth that is still developing. Because of this, untreated decay in baby teeth can quickly lead to an abscess or dental emergency.
Bigger Problems Than Tooth Decay
If the tooth has to be removed due to the large area of decay, it can alter your child's future bite. How? Because baby teeth act as guides and placeholders for the future adult teeth. Removing just one baby tooth before it's supposed to fall out could create complex crowding or impacted teeth a few years down the road.
Thankfully, filling the tooth at an early stage can prevent the disease process. In some cases, a shot may not even be necessary. Dr. Young frequently uses laughing gas to help young children relax so that she can repair their tooth when the cavity is very small.
Small Fillings for Small Teeth
We typically use white composite materials to fill cavities in baby teeth. It's mercury free, metal free, and blends right in with the tooth. In fact, the material bonds so nicely that we are able to alter less tooth surface and preserve the most enamel possible.
Routine checkups, cleanings, and fluoride treatments can keep your child's teeth strong and resistant to decay. It's never too late to start! We recommend visits every 6 months from as soon as your child's first tooth erupts.
If you're looking for a pediatric dentist in Centennial, we would love to invite you to our family practice. Young Family and Cosmetic Dentistry provide comprehensive oral health care for patients of all ages – including young children.
Why drive all over town when we have everything right here? Give our family practice a call today!