Any family or pediatric dentist in Centennial, CO will tell you how important it is for you to help your child protect his or her smile during athletic activities.
After all, chipped and knocked out teeth are one of the most common injuries for kids involved in sports.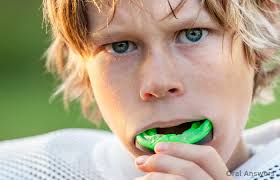 Many sporting organizations require athletes to wear a mouth guard to participate, or they make the choice an optional one. But not all mouth guards are created equal. Purchasing a stock or over the counter (OTC) boil-and-bite guard might not actually protect your child as much as one that's made right here by our dentist in Centennial, CO and here are some reasons why:
A custom guard can –
Protect against lip lacerations
Insure against secondary trauma that can occur after a loose OTC falls out from the initial trauma
Reduce the likelihood of concussion
Better protect teeth, because of its snug fit
Feel comfortable to wear throughout the entire game, or drink water in, so that your child isn't likely to want to take it out or lose it
Why a Custom Guard Works Better
When you visit your family or pediatric dentist in Centennial, CO for a children's mouth guard, the dentist will take an impression of your child's mouth. This allows us to create a model and precisely fitted prosthesis that hugs snuggly in place like a glove. Each year and season as your child grows, the guard will need to be replaced to accommodate changes in his or her smile.
Because it's conformed to each tooth, the guard won't slip out of place or distract your child. With stock guards, there is a habit of children taking them out and chewing on them during the game.
Encourage your child to wear a guard during practice, games, and even if he or she is participating in an individual sport like biking, playing on the trampoline, or gymnastics. Doing so can help you to avoid an unwanted emergency trip to the dental office.  
At Young Family and Cosmetic Dentistry, we offer custom athletic guards for athletes of all ages: including kids! Call us today to find out how.