Dental bridges—A simple solution for missing teeth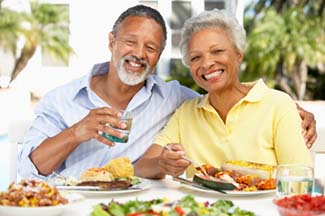 Missing teeth can wreck a nice smile. A dental bridge can be a good option for replacing those missing or lost teeth, restoring your smile and improving your overall oral health.
A dental bridge works just like it sounds—it crosses a gap made by missing or lost teeth between two existing teeth. Unlike dentures, a dental bridge is permanently affixed so there is minimal risk of the bridge falling out.
Here's what you can expect when Centennial cosmetic dentist, Kathleen Young, replaces your missing teeth with a dental bridge.
Supports for the dental bridge are attached to your existing teeth, next to the gap where your missing teeth would be. The existing teeth are also re-contoured to accommodate the dental bridge.
A mold of your teeth is taken to create a natural feel and smooth fit for your dental bridge. Your new tooth is called a pontic and sits on the bridge between two crowns that fit into the supports on your existing teeth.
It takes about two weeks for the lab to create your permanent bridge. In the meantime, you will receive a temporary bridge ensuring that you leave our office with an improved smile after your first appointment for treatment. Plus, the temporary bridge protects the supports on your existing teeth as well as your exposed gums.
When your permanent bridge is ready, we replace your temporary bridge with the new one. Give yourself time to get used to the permanent bridge and choose softer foods for the first few days after your bridge is attached. You'll soon feel more comfortable with your new teeth, and will quickly return to your regular diet.
Missing teeth not only affect your appearance—they can also lead to further gum and oral health problems down the road. Plus, you may discover eating and speaking become more difficult if you choose to live with missing teeth.
Replacing missing or lost teeth with a dental bridge is a simple and common procedure. A full set of teeth not only looks better—it can contribute to better oral health in the long run.
Call Young Smiles Family & Cosmetic Dentistry in Centennial, CO to learn more about dental bridges or to schedule your initial consultation today.
Save