Sometimes, dentures take a little getting used to before you're fully confident wearing them. If you're feeling a little nervous about your teeth staying put, denture adhesive might seem like a great option to give you the little boost that you need to feel good about your new smile.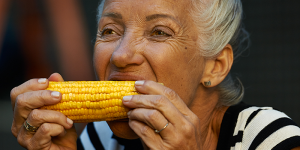 For many Young Family and Cosmetic Dentistry patients, dentures are the final step in restoring their smile after extracting teeth. When teeth are removed, the healing that occurs also results in some gum resorption. As your mouth heals, you may notice a little temporary looseness in the fit of your appliance. Adhesives can ease some of this until we see you for an adjustment.
Which Adhesive Is Right For You?
If your dentures fit well, but you just need a little extra support, there are a variety of denture adhesive options that are available:
Thin Liners are a great option if you want to avoid a lot of mess or fuss. Simply moisten these thin strips, place them on your dentures and apply them to your gums.
Adhesive Powders mix with your own saliva, creating a firm grip between your gums and prosthetic appliance.
Denture Glue or Paste comes in a tube, similar to toothpaste. When applying it to your dentures, remember that more isn't better. A little bit goes a long way, when creating a snug bond for your dentures.
Poor Fit
We've all seen the commercials on television, and we all know that denture adhesives are a necessary part of life with dentures. Or are they? If you're new to prosthetic teeth and find that your new smile doesn't fit snuggly, it may be that your dentures just don't fit.
At Young family and Cosmetic Dentistry, we can adjust your dentures to fit you just right! Simply call our Centennial, CO office to schedule an evaluation.