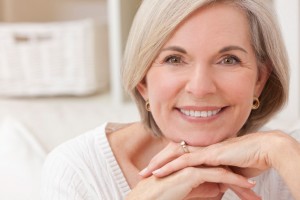 You count on your smile for a whole lot more than you may realize. In fact, it's easy to only appreciate your teeth once they're gone!
But once you've lost one or more teeth, you are faced with the challenge of replacing them. Why bother? Because replacing lost teeth will let you continue enjoying the best quality of life possible.
Dr. Kathleen Young of Young Family and Cosmetic Dentistry recommends tooth replacements such as dental implants, bridges, and dentures. Which is right for you? How do these procedures compare with one another?
Dental Bridges at Young Family and Cosmetic Dentistry
A dental bridge will span the gap where a tooth or teeth used to be. It is anchored to two teeth on opposite ends. The benefits of a dental bridge include:
Instant results
No surgery
A fixed solution
The downsides to having a dental bridge is that they can be a bit difficult to clean around and underneath. As a result, the anchor teeth could still develop cavities. Bridges also require healthy tooth structure to need to be removed before they can be placed.
Dentures in Centennial, CO
Dentures can serve as a replacement for a full arch of teeth. Or, they may have just a few teeth attached to fill in specific gaps. A denture can be worn on the bottom, top, or both arches. Why may a denture work best for you? Dentures give you:
Removable for easy cleaning and maintenance
A excellent short-term solution if you are considering implant therapy
Freedom to "rest" your mouth when you take it out each day
Why would someone want to avoid getting dentures? Dentures need regular adjustment to fit your mouth appropriately, and can be broken if dropped. They also do not necessarily function the same as natural teeth.
Bring Back Your Smile with Dental Implants
Dental implants don't just replace the visible part of a tooth – they also replace the missing root. A dental implant can be a permanent and complete single tooth replacement, or even serve to support your denture or bridge.
Why consider a dental implant?
They are a permanent and natural-feeling replacement
Oral hygiene is simple: floss and brush them just like any other tooth
Placement doesn't compromise other healthy teeth
Implants require a bit more time investment in regard to placement and recovery time. However, they last longer than any other time of tooth replacement.
Schedule a visit with Dr. Young to learn more about the tooth replacement option that is best for you!