Lots of Centennial dentists firmly believe that without taking x-rays, they may as well work on your teeth blindfolded. But there are plenty of patients out there who feel getting x-rays only gives them unnecessary exposure to harmful radiation.
What does this mean for you or your children when you visit a Centennial family or pediatric dentist at your next check-up?
What To Know About X-Rays
Radiation exposure is a serious concern, especially for people who work in healthcare or are undergoing cancer therapy.
Today's dentists now know that radiation accumulates in our bodies over time. We're also aware that there are many more sources of this energy in our environment than ever before; such as a transcontinental trip in an airplane, or even a day spent out in the sun while you're at the beach. Radiation doesn't just come from x-rays!
Dental X-Rays – Why are They Necessary?
Let's go back to the example of a dentist being blindfolded.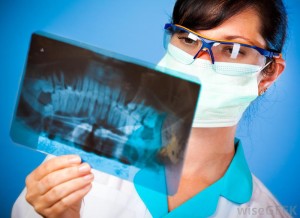 We don't use blindfolds here at Young Family and Cosmetic Dentistry, but you can imagine how scary that dental appointment would be! Family and pediatric dentists in Centennial rely on their eyes to make accurate diagnoses and perform detailed treatment.
But we're virtually blind if we can't see what's going on inside your tooth.
That's why we need x-rays! That's why you need x-rays. When used carefully and cautiously, radiation is an essential tool that helps us:
Check for cavities
Monitor tooth development
Track changes in the bone
Detect signs of disease
Plan out delicate treatment
Identify the cause of tooth pain
And so much more!
Protecting You From Radiation
Our dentist in Centennial makes sure that you are well-protected from any unnecessary radiation. Routine x-rays include only a few images in a year. We use digital, low-dose equipment which exposes you to far less radiation than traditional methods. You'll also be required to wear a lead apron which protects sensitive tissues, such as reproductive organs, from possible scatter radiation.
Schedule your next dental checkup with us and find out more about our modern and conservative x-ray methods.