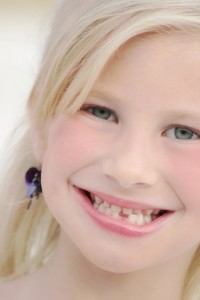 Every night, there comes that time for your children to get ready for bed.
One of the most important nightly habits your child will develop is to brush his or her teeth before going to sleep.
A good rule of thumb is that if your child doesn't yet have the fine motor skills to write in cursive, then an adult should still be assisting with nighttime brushing.
If you deal with bedtime struggles over toothbrushing, give these a whirl:  
Tips to Get Your Child to Brush Better at Night
Consider these pieces of advice from Centennial, CO family dentist, Dr. Kathleen Young:
Create a Bedtime Routine
Children need parameters and routines.  It is very important to establish a nightly routine that includes thorough tooth brushing and flossing. You'll get less pushback if they know what to expect each night before they go to bed. Skip part of the routine and you know who will be reminding you!
Keep the Bedtime Routine at Same Time Each Night
Equally as important as a nightly routine, is to have the nightly brushing routine and bedtime at the same time each evening.  If your children get overly tired and go to bed later than normal, they may resist brushing their teeth because they are too tired.  On the other hand, if you send them to bed too early, they may resist settling down for their bedtime routine.
Allow Them to Make Choices
Kids love to be empowered with choices!  It's much better to offer them a choice about how to brush their teeth, not if they want to brush their teeth.  For example, you can offer them the choice of which flavor of toothpaste to use each night, or even which bathroom to brush their teeth in!
Create a Reward System
Children like to be rewarded for their good behavior!  An example of rewarding your child for brushing their teeth could be to let them pick out a sticker to put on a sticker chart after they brush their teeth each evening.  If they earn a certain amount of stickers, they could earn a prize out of a treasure chest, pick out a new toothbrush at the grocery store, or even a healthy treat like a Xylitol-sweetened candy.
Continual Reinforcement
Everyone likes to be appreciated and to receive a "pat on the back" when they are doing a good job.  Children are no exception.  If you give them positive reinforcement (for example, giving them a hug and saying, "Great Job!") after they have brushed their teeth or cooperated with your brushing, most children will want to continue that good behavior to keep getting that positive reinforcement.  Make sure to continue this reinforcement each night to continually encourage this good behavior.
Brush Alongside of Them
Nothing is as much fun as getting to do something with Mom and Dad. Have your son or daughter "race" you to see who can brush their teeth the longest. Once your two minutes are up, stop— your child will "win" each time and you just tricked them into brushing longer.
Are you looking for a pediatric dentist in Centennial CO?  At Young Family and Cosmetic Dentistry, we are accepting pediatric patients!  We would be happy to discuss good bedtime brushing habits with you and your child.  Call us today at 303-759-9535.